---
For-A MFR-3000
Ready for 4K/8K, the MFR-3000 enables compact system building that requires fewer cables and leaves more rack space (using input / output option with 12G-SDI) and more outputs for production (using innovative multi viewer output).
This routing switcher that builds on the solid performance of our larger MFR-5000/8000 units through redundancy and easy maintenance. Can be expanded by 8 inputs or outputs at a time, up to 64x64. In mixed environments, audio modules can also be added.* Designed for mission critical broadcast facilities, additional environments include hospital surgical rooms, corporate meeting rooms, and research centers. An optimal solution in midsize systems where variable input/output capabilities and mixed signal formats are used.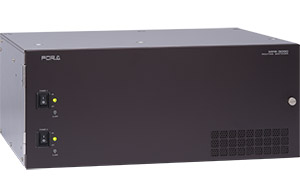 MFR-3000: Main Unit
MFR-3000 has multi viewer output option (MFR-16MV)
A MFR-16MV multi viewer output card (option) has been added to the MFR-3000, to add a multi-viewer environment, and to contribute to reduced rack space and cabling.
*Narration is in Japanese only. English closed captioning is available on this video.
Enter "Settings" and select "Subtitles/CC" to turn ON your English subtitles.
Using the MFR-16MV multi viewer option, except for number of multi viewer monitor output, the remaining output can all be used for production, without having to assign output lines to an external multi viewer.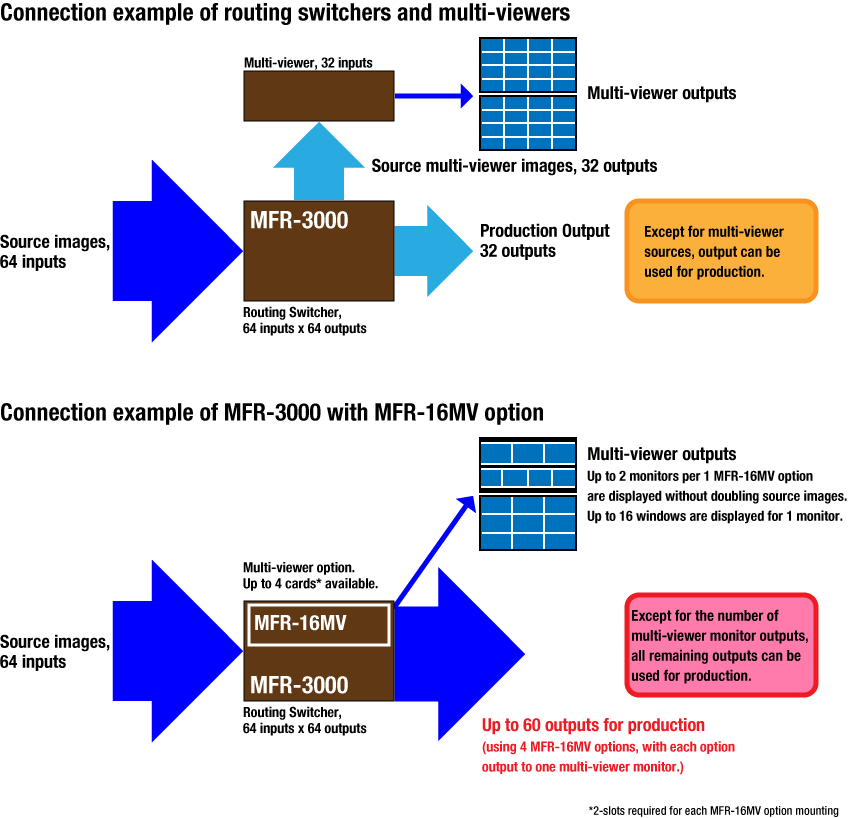 Multi format video input and output
As with our MFR-5000/8000 routing switchers, this unit provides standard support for 3G-SDI (Level A/B), HD-SDI, SD-SDI, and ASI input and output. No need to worry about signal formats, thanks to auto signal detection.
Configurable matrix: Up to 64 x 64
Install up to 8 input and 8 output cards, into a maximum 64-input/64-output matrix. Use up to 4 inputs and 4 outputs at 8K, and 16 inputs and 16 outputs at 4K (QFHD). Support for AES/EBU, analog audio, and multi-viewer (monitor output) via additional I/O cards.
MFR-8SDI: SDI input card
MFR-8SDO: SDI output card
Outstanding redundancy
Redundancy in routing switchers is the core system requirement that ensures continuous operation if problems arise.
Redundant CPU board (option MFR-30CPU)
Redundant power supply (option MFR-30PS)
Router linkage:
Parallel operation of two routing switchers ensures matrix redundancy and enables quadruple redundancy of the power supply unit and CPU board.
SNMP monitoring
Can be integrated into an SNMP monitoring system. Enables monitoring of various operational states, such as power, fan, and CPU status, SDI signal input or output, and crosspoint errors. SNMP traps are sent to a manager if system failure and recovery occur.
Configured a visual interface
A built-in Web server enables immediate setup and eliminates the need to install software on external devices. Using this interface, settings can also be configured in offline environment.
Versatile crosspoint control
Besides typical crosspoint switching, the unit enables a variety of crosspoint control.
Salvo
Take
Link
Errorproofing (Inhibit, Lock)
Front control panel (MFR-30FP) (Option)
Equipped with a control panel for convenient crosspoint switching from the front.
Interface expansion units
Three types of interface expansion units are available to suit specific applications.
MFR-TALM: Tally Manager
MFR-RULINK: Remote Control Relay Unit
MFR-GPI: GPI Unit
Connectivity with other products
Can be remote-controlled through the Ethernet or serial ports. Compatibility with common protocols such as TSL and Harris allows tally linkage or auto source name tracking for crosspoint switching.
Remote control unit
We offer several types or remote control unit to suit your application. The number of units that can be connected is a maximum of 128, including the main unit. This lets you build a flexible control environment by the way you partition the matrix and make operation level settings.